Salzburg Cathedral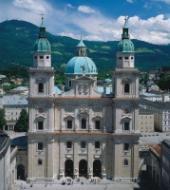 Probably the city's most significant piece of church architecture and at the same time its ecclesiastical center. With its magnificent façade and mighty dome it represents the most impressive early baroque edifice north of the Alps. Destroyed by fire and rebuilt, it bears witness to the power and independence of Salzburg's archbishops. In 1944 the dome and part of the chancel were destroyed during a bomb attack.
Location: Domplatz 1a, 5020 Salzburg
Tour: English guide


Departure Point: Accommodation pick-up service
Departure Time: 10 AM or 2 PM
Duration: 1,5 - 2 hours

Fees do not include additional costs like entrance fees, parking charges, or tickets.

Tickets sent by email!
Powered by Ticketbar