Ice Caves or Fortress Hohenwerfen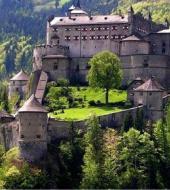 Visit this unique natural phenomenon created by ice and rock - or take a journey back into the Middle Ages.
From Salzburg the tour travels via the Salzach valley to Werfen. Once you arrive in the parking area you will then go up via cable car and then walk to the entrance of the Ice Caves, the largest on planet earth. Prepare yourselves for an amazing ice experience, with an average inside temperature in summer of 0 degrees centigrade! This is your opportunity to walk through the Ice Caverns accompanied by a local guide.
Important – You must be prepared with suitable shoes & warm clothing.
In Werfen you have the option of remaining at the Fortress Hohenwerfen – featured in the movies "Where Eagle's Dare" and "Sound of Music". From the car park a small mountain lift will take you up to this 11th century Fortress. Once within the Fortress grounds you can participate in a show of flying birds of prey or follow the footsteps of former Knights by going inside the fortress.
Please Note: Prices exclude entrance fees
Departure Point: Mirabellplatz 2, A-5020 Salzburg
Departure Time: 13:00
Duration: 5.5 hours

Tickets sent by email!
Powered by Ticketbar